A couple days ago I finally got to drive the Tesla Model 3, thanks to You You Xue and his Tesla Model 3 Road Trip. By the time you read this, he's already traveled halfway across the country, but if you're in the northern part of the US, check out his event dates and see if he will be near you. They are currently in New York City for New Years Eve.
Schedule your drive and be prepared for delays
When he started his journey just before Christmas, I decided I was either going to catch up with him in Greenville, South Carolina, which is an hour and thirty minute drive from me, or Charlotte, North Carolina, which is two hours and thirty minutes from me. Originally Greenville was scheduled for 3pm on Wednesday, December 27. Perfect. I could make that work. As he traveled, there were delays thanks to larger and larger crowds of people interested in the car. The event got bumped to Thursday, then quickly to Friday. By Thursday it was rescheduled for Friday at 3am. If it got bumped to 6am then I'd make it, but 3am for a 1:30 drive was not going to be fun. Thankfully they got delayed again and the Atlanta stop would have been at 2am, so they stopped to rest and moved Atlanta to 9am. Greenville was bumped to 1:30 pm. Excellent. As I met up with a couple guys from the Blue Ridge EV Club at noon, the time changed again, to 3:30 pm. No problem, that just meant we got to stop and eat lunch.
If you're planning on catching up with these guys, prepare to have an open schedule. Thankfully I work for myself from home, and being the week of Christmas I was not busy anyway.
Quick side note: the guy I hitched a ride with to Greenville has a Chevy Bolt that he's had since spring of 2017, with 12,000 miles on it. It was my second time in the Bolt, and this time for a longer distance. For most purposes, this car will meet your needs. It's not sporty. It's a utility car. It's not comfortable, but it can haul a lot. It's not a long distance travel car, but for regional driving, it can replace a gas powered car. If you can find one very cheap or a low lease deal, I wouldn't hesitate for a useful EV. I just personally could never spend $38,000-$44,000 for one. Drop it to $25,000 and I might consider for a second car. I like hatchbacks, and it's definitely a better car than any gas powered hatchback, and 238 miles of range is no joke.
We arrived at the superchargers at about 2 pm and were the first ones there. There were a couple people charging that had no idea what was going on. One was interested and waited for a little while, but he had to be on his way.
The Model 3 arrives
Soon the crowd started growing.
We watched their location live on Glympse and when we saw that he was very close, we watched the interstate next to us and saw them go by. Just a few more minutes and they arrived, at about 3:40 pm.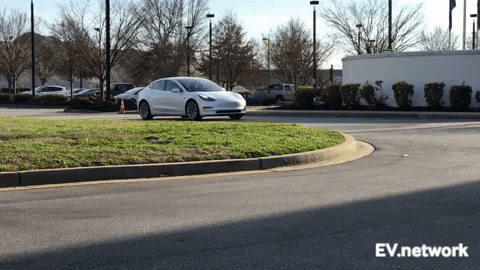 There were about 35-40 people at the Greenville stop, which surprised everyone, considering it's between metro areas of Charlotte and Atlanta, pretty much in the middle of nothing, and only 11 or 12 people has signed up to come on the Facebook page. 
Photo credit Tesla Model 3 Road Trip
Everyone else has said it before, but the car is even nicer in person than in pictures, so I'll share some more pictures.
Once they pulled in to charge the crowd swarmed the car. 
I stepped back and enjoyed while everyone took turns getting in and out. It was so cool seeing people of all ages and walks of life gathering around a car like this. This is the EV that people have been waiting for.
I hopped in the back seat to check out leg room and it did not disappoint. Even with the front seat back all the way, I had plenty of room in front of my 5'9" self, which isn't saying much. But still, it was surprisingly roomy and comfortable. Above my head I had a good five inches.
With just two adults in the back and the center armrest down, it was just fine, and you get a nice view out the front. I can honestly say I only have a couple minor complaints on the inside, and that is the wood trim on the dashboard.
People have said it looks better in person. While the quality and texture is great, I just don't like it. At all. I am not sure why this is the only option, or the first option. I will gladly wrap this piece as soon as I get my car, either in carbon fiber or a dark brushed steel. I just can't do it. I may wait for the white interior, and maybe that offers a nicer dashboard.
The other complaint would be the gloss black on the center console. It's just asking for scratches. I will wrap that too.
I was not able to get a good shot of the trunk, as it was packed with stuff, as was the frunk, so I got a few pictures of things I had not seen as much focus on.
The Model 3 headlights are beautiful. I like them more than the Model S for sure, and maybe even more than the Model X, though that one is close for me.
I love the lack of badging. This is the only place on the car it says Model 3.
I tried my best to get a good shot looking up at the massive glass roof. It is very hard to capture just how incredible the roof is in pictures. Maybe a wide angle lens could do it?
Now onto the fun part: the drive!
We pulled into a Mini dealership to swap drivers. I was hoping the driver before me would pull right up front. 
I have driven both the Model S and Model X, both in base trims and fully loaded with Ludicrous. While I love those cars, I have never owned large cars. I currently drive a 2013 Nissan Leaf. Prior to that, a 2009 Honda Fit. Before that, an old Honda Civic. 
I just prefer smaller cars. Even with two kids, I never desired anything bigger. Now that one is almost off to college and the other will follow soon, I would have no reason to drive something so big.
I will also preface my drive experience with that fact that I have never owned a performance car. The closest to that would be a 1985 Pontiac Fiero GT and 1986 Fiero SE (both V6), which I owned when I was 19 and 22 years old. They were what I would consider "sporty" but had nothing about them that was a true sports car. 
Having watched every video walkthrough and review and looked at every photo possible, I felt like I sat down in a car I had known forever even though I'd not even seen one from a distance before. I was missing that wow factor of seeing something cool for the first time. But it was still exciting to finally sit behind the wheel myself.
Compared to my Leaf, it has more room inside, is much more comfortable and is quieter. The motor on the Leaf is up front, so unless you are sitting still, you hear a whine from the electric motor. Still very quiet compared to a gas engine, but not silent. The Model 3 is silent, much like its older siblings. 
The display is worlds better than the Model S and X, which Tesla is going to have to change quickly to keep people paying twice as much or more for the S or X. I had no issue seeing the speed out of the corner of my eye. No HUD? No problem. You won't care, as Elon put it. Seriously, you won't care. From a UI perspective the turn signal could use a little work. Maybe flash the entire icon instead of just the arrow within the green circle?
The car takes off without effort. It turns without effort. The entire driving experience is very smooth. I can't compare to a BMW or Audi, but compared to any cars I've driven there is no comparison. That to me includes the Model S and Model X. Those cars made me love Tesla, but they are really big and really heavy. While the Model S can launch much quicker than this Model 3, it feels different. You can tell that all that power is moving a land yacht. In the Model 3, it feels more effortless. Maybe it is just me, since I drive smaller cars.
Taking corners and going down curvy roads is excellent. I won't say who was driving the car, or exactly how fast they were going and where, but I can tell you that the car can take some small, curvy roads at very high rates of speed with five adults with ease. I cannot wait to drive the car down the Blue Ridge Parkway! The car is quick, nimble and fun!Speaking of five adults, you are not going to do this regularly, especially with bigger people. It's a tight squeeze back there. I was the one sitting in the middle, and I had no room. The lack of a hump in the middle helps, and front to back my knees were fine, but aside from a quick run to the store I wouldn't plan on stuffing five adults in this car. Two adults and three kids should be just fine though.
Someone else in the car with me got a chance to try out Autopilot and even in a construction ridden area of interstate with temporary line markings and other markings scraped off, it did just fine. 
Overall, I am very glad I went down there. This is definitely the EV that will push us toward all electric vehicles. I am more excited than ever to get my car. Just a few more months.
I want to thank You You Xue and Yash again for their hospitality and a chance to experience the drive. They were professional, organized and kind. You will get a chance to push the car to see what it is capable of, but do not do anything stupid or you will get kicked out of the driver's seat. I took the opportunity to chat one on one with Yash while the final group went out on their test drives.
If you can find any way to, meet up with them on their journey. I look forward to his Roadster road trip in a few more years!